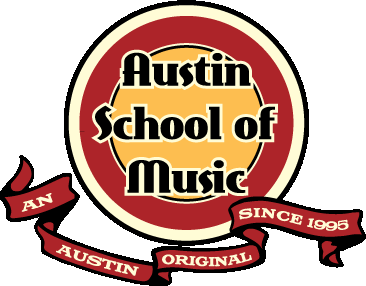 Music Lessons, Pricing, and FAQ
For more information about our music lessons, call the Austin School of Music today!
South (512) 476-7666 North (512) 331-7666
PRICING
$40 / 30 min trial/single lesson

$132 / 4 x 30 min lessons (per month)

$70 / 60 min trial/single lesson

$252 / 4 x 60 min lessons (per month)
​
PRIVATE MUSIC LESSONS -- LEARN TO PLAY THE INSTRUMENT OF YOUR CHOICE:
Guitar Lessons (Acoustic, Electric, Classical) including Electric Bass Guitar Lessons
​
Piano Lessons and Keyboard Lessons
Voice Lessons and Singing Instruction
​
Songwriting Classes and Private Lessons

Drum Lessons - Snare Drum, Bass Drum, Cymbals, Log Drum, Bodhan, Bongos, Congas and Djembe
​
Violin Lessons and String Instrument Instruction - Fiddle, Viola, Cello, Upright String Bass
​
Trumpet Lessons and Brass Instrument Instruction - Cornet, French Horn, Trombone, Tuba
​
Clarinet Lessons and Woodwind Instrument Instruction - Flute, Piccolo, Oboe, Saxophone
​
Professional banjo lesson teachers in our North or South Austin studios. Choose folk, country or indie style.

Looking for

Ukulele lessons

? Call Austin School of Music
South (512) 476-7666 North (512) 331-7666
​
PLUS: Mandolin, Dobro, Oud, Euphonium, Pennywhistle, Harmonium, Accordion
And Mallet Instruments - Xylophone, Marimba, Vibraphone and Bells
​
Professional music lessons -- your path to the Austin Music Scene! We offer private music lessons for kids, adults and everyone in between. For the convenience of our students, we have two campuses located in South and North Austin. Our most popular classes are guitar lessons, piano lessons and singing lessons. Several of our guitar teachers and drum instructors are professional musicians currently playing in popular Austin bands.
LEARN TO PLAY WHATEVER STYLE YOU'D LIKE!
Rock, Blues, Jazz, Classical, Singer-Songwriter, Pop, Bluegrass, Metal, Country, Classic Rock, Afrobeat, Gospel, R&B, Flamenco, Alternative, Funk, Fusion, Reggae, Swing, Celtic, Southern Rock, Folk, German, Psychedelic, Surf Rock, Christian, Americana, Screamo, Latin, Indie, Theater, Tejano, Electronica, African, Emo, Techno, Brazilian, Soul, Ska, Hard Rock, Cuban, Rockabilly, Salsa, Bossa Nova and on and on....
YOUR MUSIC LESSONS WILL FOCUS ON WHAT YOU WANT!
Lead Guitar, Rhythm Guitar, help breaking through to the next level, Slide Guitar, Music Theory, Audition Preparation, explore other genres, Improvisation, Composition, kick start your career, Finger-style Guitar, polish up on your reading, clean up your technique, or just learn to play your favorite song.
WHERE WILL MY MUSIC LESSONS BE LOCATED?
You can take music lessons at either of our two Austin locations:
​
Austin School of Music South is at 2428-B West Ben White Boulevard, 78704.
(Ben White / South Lamar - Click HERE to view a map of our location.)
​
Austin School of Music North is at 13945 North Highway 183, 78717.
(183 / 620 – near Lakeline Mall - Click HERE to view a map of our location.)
​
HOW DO I SET UP MY LESSONS?
The first step is to contact us. Call or email our friendly office staff at:
Austin School of Music South: 512-476-7666
Austin School of Music North: 512-331-7666
or email info@austinschoolofmusic.com
Our regular Office Hours are Monday through Friday from 12PM to 7 PM.
Private Lessons are available 7 days a week, Late AM – 9 PM.
You can also set up music lessons by using our Information Request Form:
Click HERE for our Information Request Form
HOW DO YOU DECIDE WHICH INSTRUCTOR IS RIGHT FOR ME?
We'll ask you about your experience, schedule needs, personal goals and interests and then suggest one of our expert teachers who we feel will be a great match for you! We will then ask the instructor to contact you to discuss any details that you'll need before your first music lesson.
WHAT IF I'M NOT SURE THE TEACHER IS RIGHT FOR ME?
We realize that many factors are involved in reaching that perfect student / teacher relationship. While we feel that our talented office staff is extremely successful in this matching task, if you are not 100% comfortable with an instructor at any point in your learning journey – let us know! We'll remedy the situation as best possible for all involved.
HOW OFTEN DO I TAKE A PRIVATE LESSON?
Most students take one half hour private music lesson per week. However, some students may discuss their own personal skill level and goals with their instructor and choose to take either one forty-five minute lesson or one hour lesson per week.
HOW MUCH ARE PRIVATE MUSIC LESSONS?
Lessons are paid on the first music lesson of each month, for that month in advance.
Instrument and vocal private lessons are $132.00 per month (Four half hour lessons).

​
WHAT TYPES OF PAYMENT DO YOU ACCEPT?
The Austin School of Music accepts all major Credit Cards (MasterCard, Visa, American Express, Discover) as well as ACH withdraw.
The Austin School of Music offers an Easy Pay payment option. With Easy Pay, your credit card information is kept securely on file with our card processor Mindbody, which is PCI Level 1 compliant so that your lesson payment will be charged automatically, without you having to deal with it at all! Your instructor will indicate exactly how many lessons are to be charged each month.
​
CAN AN INSTRUCTOR TEACH MORE THAN ONE STUDENT AT A TIME?
Yes! If more than one student would like to take lessons together, the additional student(s) will be charged only 50% more each to participate.
However, please note that students learn at different paces and have different learning styles. What that means is that a one-on-one music lesson may be more beneficial to each student than learning together.
DO YOU HAVE SPANISH SPEAKING INSTRUCTORS?
Yes! You can request a Spanish speaking instructor when you set up your lessons or you can look at our individual teacher homepages on this website for Spanish speaking teacher listings.
WHAT DO I DO IF I DECIDE TO TAKE A BREAK OR STOP MY LESSONS ALTOGETHER?
If you choose to discontinue taking lessons, we respectfully request that you give your instructor two weeks notice via email.
​