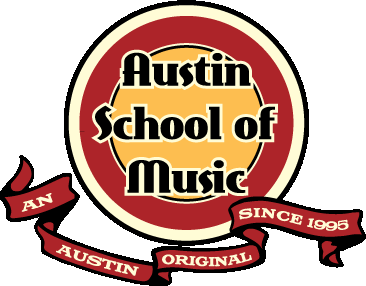 Voice Lessons – Austin
Private Singing Instruction
Learn to sing better with professional vocal lessons at Austin School of Music.
Private voice lessons for adults, teens or children.

Choose your favorite singing style - Rock, Classical, Blues, Country, etc.

ASM voice lesson plans cost $132/month - four 1/2 hour sessions.

South Austin (512) 476-7666
North Austin (512) 331-7666
Improve your singing with private voice lessons at the Austin School of Music! Whether you want to be a rock band lead vocalist, choir member - or the best shower crooner in Austin – we can help. Our professional instructors can teach you to sing Rock, Country, Blues, Jazz or Hip Hop.
We know you're busy, so ASM singing lessons are designed to be convenient.
We have classrooms in North Austin (corner of RR620 and Research Blvd) and
in South Austin (intersection of Ben White and South Lamar). And to fit into
your schedule, we offer private voice lessons 6 days a week, from late morning
to 9pm.
For most of our students, beginning or advanced vocal instruction costs $132
per month for four half-hour sessions. Depending on which instructor you
choose (or if you elect to have more frequent or longer sessions), your singing
lessons might cost a little more. Beginning and intermediate students typically
have a 30-minute voice lesson once a week; but advanced singers may opt for
a 45- or 60-minute session.
​
Call today to talk with an instructor and schedule your first voice lesson!
South Austin (512) 476-7666 - North Austin (512) 331-7666
ASM has been giving private voice lessons in Austin for more than 20 years.
During this time we've learned that weekly sessions give our students the best
results. They enable our singing instructors to tailor the lesson plan to your
specific goals and current singing skills, and provide immediate attention and
feedback.

Singing Lessons - Vocals Training - North or South Austin

Your teacher will work with you to create a custom voice lesson curriculum -- based on
your age, length of time you've been singing, and the musical genre you are pursuing.
Obviously students who want to become country singers or lead vocalists in a rock band
will sing different songs and learn different techniques than those working to sing in a
choir or jazz nightclub. But here are some of the elements common to all students and
musical styles:
Beginning voice lessons include instruction in posture and breath control, how
the voicebox produces sound, and how to control air flow, tone and timbre. We
introduce students to reading music, vocal toning, as well as basic techniques and
exercises to strengthen the diaphragm and protect their voices.
Intermediate vocal instruction covers vibrato control, controlling power with
relaxation, more expressive singing, and building vocal strength. Students learn
how to preparing for practice and recitals/performances, and intermediate-level
songs in the student's preferred musical genres.
Advanced voice lessons incorporate more challenging musical selections, chromatic
scales and pitch slides, transition between upper and lower registers. Advanced
students also learn music theory, composition and improvisation.
Call to talk about the type of singer you'd like to become. North (512) 331-7666 – South (512) 476-7666
We'll recommend an instructor and voice lesson program to match your goals and current skill level.
Benefits of Private Voice Lessons
​
Whether you're a barbershop quartet member, tenor in your high school
choir – or want to become a rock star like Bruce Springsteen or Aretha Franklin,
you'll make progress faster with professional singing lessons.
Our Austin voice lesson instructors can help you improve the range, tone and
strength of your singing. For complete beginners, singing lessons start with
the basics – reading music, posture and correct breathing technique.
Another important aspect of beginning vocal lessons is learning how to listen
to singing. You will learn how accomplished vocal performers produce their
amazing sounds, and what you need to do to achieve the same effects. The
characteristics of each person's voice are unique; but you can learn to make
the most of your singing talent through proper technique and training.
Intermediate voice students learn more about vocal toning and expressive
singing. Advanced vocalists add more challenging song selections, advanced
scales and exercises, and apply music theory and improvisation to personalize
your own sound and style.
Customized Vocal Training
We offer North and South Austin vocal lessons for students of all skill levels -- and in just about every style of music. Many of our students have gone on to become professional voice coaches, opera singers, choir and chorale members -- and lead vocalists in popular rock bands.
One of the great things about voice lessons at the Austin School of Music is our on-site recording studio. This facility enables our students to make videos and audio recordings, and play them back to see and hear how they sound. Most students are initially surprised to learn what their voices really sound like; and this is a valuable asset for your singing lesson program. Some of our student vocalists have used the ASM music studios to cut successful demo recordings.
Your First Voice Lesson
A lot of people who want to learn to sing spend years trying to teach themselves or asking friends for help. They never learn the technical aspects of vocal toning and control, and are likely to permanently injure their vocal chords. The best (and easiest) way to become an accomplished vocalist is with a series of professional voice lessons from an experienced teacher.
Take your first step to singing proficiency, confidence and enjoyment. Call today to discuss your goals with one of our Austin instructors and schedule your initial set of voice lessons.
​
Austin School of Music - North (512) 331-7666 - South (512) 476-7666