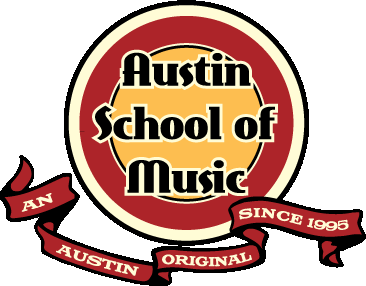 Austin Violin Lessons
Learn to play violin with private lessons at the Austin School of Music.
Professional violin lessons for children, teens and adults.

Choose favorite style of music - Classical, Jazz or Country.

Violin lessons cost $132/month - four 1/2 hour sessions.

South Austin (512) 476-7666
North Austin (512) 331-7666

Call today to schedule your first violin lesson!
​
Want to be the star of your school orchestra, fiddle for a local band or train to be a professional violinist? Private violin lessons at the Austin School of Music (ASM) are the best and fastest way to improve your musical proficiency. Some people try to learn by themselves, or by watching online videos. But here's the problem: If you teach yourself, you're taking a violin lesson from someone who doesn't know how to play!
And the same goes for the cello, string bass and viola. In private violin lessons at ASM, your instructor can see and hear how you're playing and immediately help you with any difficulties. A video lesson can't do that. With an experienced ASM instructor, you won't be making the same mistakes for hours and hours. Your teacher will quickly identify any problems -- then demonstrate and guide you to play with the correct technique.

Violin for Beginners
If you've never taken violin lessons before, we begin with a basic introduction to the instrument and how it works. You'll learn how to hold the violin and bow, bowing with open strings, and how to tune the instrument. You will quickly move on to first position fingering and different bowing patterns.

We want every violin lesson to be FUN; so our goal is to teach you to play a recognizable piece within just a few sessions. Beginning violin lessons also include scales and bowing exercises, to familiarize students with the instrument, improve posture and hand flexibility. With these new skills you'll gain proficiency and confidence – and be able to show off for your family and friends!

Do you dream of playing the violin, viola or cello in a symphony orchestra? Imagine being able to play like Itzhak Perlman, Yo-Yo Ma, or Sara Chang! Your ASM violin lessons will get you off to a great start.

It takes talent and hard work to become a virtuoso with a string instrument. You also need an experienced coach and a plan to guide you through a series in-studio lessons and home practices. We've given violin lessons to Austin music students for more than two decades. Our best students have gone on to become first chair high school band violinists and play professionally in major symphony orchestras.

Call to discuss your current situation and goals. We'll recommend an instructor who best fits your present skill level, style of music and the instrument you want to play. North Austin (512) 331-7666 -- South Austin (512) 476-7666

Advanced Violin Lessons -- Austin String Instrument Instruction
For experienced violinists, we teach you how to play more challenging pieces – and add your own interpretation and improvisation.
Our advanced violin lessons also provide exercises to build up the necessary technique, flexibility and speed to play more difficult pieces. Advanced students generally have lesson plans including the following topics:

Vibrato and vibrato trill

Chords and harmonics

Right hand martele, tremolo, mute and col legno

Advanced hand/finger positions and transitions

Advanced bowing techniques: detache, spicatto and Sautille
​
ASM violin lessons are convenient and very affordable. We have two music school locations.
North Austin (RR620 and Research Blvd) and South Austin (Ben White and South Lamar).
We know you have a busy schedule; so we're open 6 days a week, from late morning to 9pm.

Violin lessons cost $132 per month for four half-hour sessions. More experienced students may take more frequent or longer sessions; and these may cost a little more.

In 20 years giving violin lessons in Austin, we've learned that the best results and fastest progress come from private instruction. Whether you're learning the violin, cello or viola, our string instrument teachers provide individual attention and tailor the lesson program to suit your schedule, playing skills and the type of music you want to play.

Violin Lessons are FUN!
​
Take your first step toward becoming an accomplished violin player. Or learn how to play the string bass, cello or viola. You're just a few sessions away from being able to play music that will delight your family, friends or fellow string quartet members. With lessons and hard work, the sky is the limit -- you might become the next Niccolo Paganini, Jacqueline du Pre or Yuri Bashmet!

Call us today to schedule your first lesson. North Austin (512) 331-7666 -- South Austin (512) 476-7666