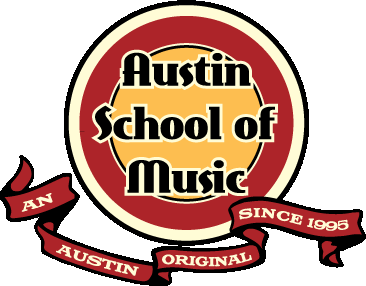 Austin Piano Lessons – Keyboard Instruction
Learn to play piano at the Austin School of Music (ASM).
Private piano lessons for adults, teens or children.

Pick your favorite musical style - Rock, Classical, Blues.

Cost is $132/month - four 1/2 hour sessions.

South Austin (512) 476-7666
North Austin (512) 331-7666
​
Private piano or keyboard lessons are the best (and fastest) way to learn to play piano or keyboards. Our music school has instructors who specialize in keyboard and piano training for beginners, intermediates and virtuosos. Call today to learn more about our keyboard and piano instruction programs.
​
If you're already an accomplished pianist or keyboard player, you may need a little help with a difficult passage. Or you might want to explore playing electronic keyboards or synthesizer. Maybe you learned to play piano when you were younger, and want to brush up so you can entertain for your kids or friends. Each session will help you regain your skills, and you'll be surprised how quickly you progress!
Private keyboard or piano instruction at ASM is the best and easiest way to learn or improve your skills. You select the style of music you want to play -- classical, rock, country, ragtime, jazz or blues. And you can choose from electronic keyboards or conventional pianos. One of our professional instructors will work with you to create a program designed specifically for your skill level and goals.
​
Piano Lessons for Adults, Teens and Children – North or South Austin
For those just starting out learning to play piano (or electronic keyboard), we begin with a basic introduction to the instrument and how it works. Beginners will need to practice some scales and chords to familiarize you with the instrument's feel and sound, and learn the proper posture and keying technique. But our main goal is to get you playing your first recognizable tune in just a few classes!
Here are some of the skills we cover in beginning piano lessons:
Introduction to pianos/keyboards layout

Posture, hand position and note playing techniques

Reading sheet music: scales, sharps and flats

Time signatures, note and rest values

Right hand only – your first tune!

Adding the left hand for harmony

Scales and chords/harmony, basic arpeggios

Basic rhythms

Chord progressions

Finger speed and strength exercises

Major and minor keys, transpositions
Keyboard Lessons - Austin TX
Do you dream of playing keyboards in a band and becoming a rock star? Can you imagine being able to play the piano like Elton John, Ray Manzarek or Billy Preston? Our experienced instructors can start you on your way. In addition to traditional acoustic piano (upright, spinet, baby or concert grand), we also teach students with stationary and portable electronic keyboards.
It takes more than desire and practice to become a proficient pianist or keyboarder. You need a plan and a coach who can guide you through a series of one-on-one sessions and practicing at home. For more than 20 years we've given thousands of piano lessons to Austin-area kids, teens and adults. Our most talented and conscientious students have become concert pianists, professional piano players-- and rock band keyboard superstars.
ASM lesson packages are affordable and convenient. We have two locations – one in North Austin at the intersection of RR620 and Research Blvd, the other in South Austin on the corner of Ben White and South Lamar. And to accommodate your busy schedule, we are open 6 days a week, from late morning to 9pm.
Our Austin piano lessons begin at $132 per month for four half-hour sessions. More experienced students may have longer or more frequent sessions which cost a little more. In more than two decades providing music instruction in Austin, we have learned that a private piano lesson program provides the best results – and the best value -- for our students. This enables us to give you individual attention and tailoring of the program to suit your preferences, schedule and playing skills. You will learn faster and focus on the aspects of your technique that need the most help. Unfortunately we can't offer group piano lessons at this time; but it is our opinion that one-on-one sessions are generally more productive – for advanced students and beginners.
Call today to discuss your current situation and goals. We'll recommend an instructor who is a good fit for your current skill level, style of music and type of instrument you prefer. South (512) 476-7666 - North (512) 331-7666
​
Advanced Lessons – Austin North and South Locations
For more experienced pianists, we teach you how to play more challenging pieces -- with your own interpretation and improvisation. Our advanced piano or keyboard lesson sessions also provide exercises to build up the necessary skills, strength and hand speed to master more difficult passages. The typical advanced student will have a curriculum consisting of the following topics:
Playing more challenging pieces

Advanced chords, scales and arpeggios

Grace notes and appoggiaturas

Piano intervals

Complex rhythms

Advanced fingering techniques

Major and minor harmonic scales

Interpretation and improvisation

Music theory and composition

Learn to Play Piano - Lessons are Best and Easiest Way!
Many aspiring keyboard or pianists spend years trying to teach themselves. The main problem with this is that you're basically taking every lesson from someone who doesn't know how to play the piano! Other people spend countless hours watching videos without getting much better. There's no way a video or Internet lesson can gauge how you're doing or adapt the session to help you through a problem you're having.
Those strategies aren't any fun and they're not the best use of your time. The most reliable and fastest way to become a pianoforte virtuoso or rockin' keyboard player is to take private piano lessons at Austin School of Music. Our professional teachers can design a lesson plan and practice sessions that are just right for you and enable you to improve your skills as quickly as possible. And when you run into difficulty (everyone does), your instructor will be right there to diagnose the problem and get you back on the right track.
Take your first step to becoming an accomplished piano player. You're just a few classes away from being able to play music that will delight your family and friends. And who knows – you might be the next Vladimir Horowitz, Thelonius Monk, Victor Borge or Jerry Lee Lewis!
Call us today to schedule a lesson - South Austin (512) 476-7666 - North Austin (512) 331-7666