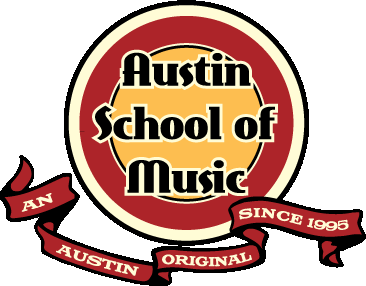 Guitar Lessons - Austin TX
Learn to play guitar with private lessons at the Austin School of Music.
Private guitar lessons for adults, children or teens.

Choice of Acoustic - Classical - Electric Guitars.

Pick your favorite music style - Rock, Metal, Blues, Country, Classical, etc.

Guitar lessons cost $132/month - four 1/2 hour sessions.

South Austin (512) 476-7666
North Austin (512) 331-7666
Whether you're a complete beginner, current band member or accomplished professional, our experienced instructors can teach you to play with more skill and confidence. After just a few lessons, you -- and your friends -- will notice the difference.
​
Our instructors teach students to play all types of acoustic and electric guitars. For your convenience, the Austin School of Music has studios in both North Austin and South Austin. And our teachers give private guitar lessons six days a week. You can even select the style of music you want to play -- Rock, Jazz, Blues, Country or Classical.
​
Call (512) 476-7666 today to talk with one of our instructors!
​
Our Guitar lessons are convenient and affordable – and fun! We have two locations – one in South Austin on the corner of Ben White and South Lamar, the other in North Austin on the corner of RR620 and Research Blvd. For your convenience, we offer private instruction 6 days a week, from late morning to 9pm.
Guitar lessons start at $132 per month for four half-hour sessions. Your pricing may be a little higher, depending on the specific instructor you choose – or if you have longer or more frequent sessions. Most of our students have a 30-minute guitar lesson once a week; but more advanced musicians may benefit from a 45-minute or one hour session.
In our 20 years of experience providing music instruction in Austin, we have learned that private instruction provides the best results – and best value for our students. The individual attention and tailoring of the program to suit your preferences, schedule and playing skills lets you learn faster and focus on the aspects of your technique that need
the most help.
​
It is unusual to have two or more students with similar music preferences, levels of proficiency and learning styles. So we generally recommend private guitar lessons for beginners and advanced students. However, we will consider a group lesson option on a case by case basis; so please ask us about that.
​
Guitar Lessons for Beginners or Professionals
​
At Austin School of Music, we teach guitar to complete beginners -- and accomplished
guitarists who are striving to get even better. We tailor the lesson plan to your current
skill level, so it's not too hard or too easy. Some of our instructors specialize in teaching
young children, and others enjoy helping seniors relive the rockin' times of the '70s and
'80s. If you think you're too old to learn guitar, we'd be glad to point out some much
older players who are still on tour!
​
As with most things, the best time to learn is when you're young. Teens and pre-teens have the best combination of motor skills, available practice time -- and motivation. There's nothing like the appeal of being in a rock band to amp yourself up to practice and improve! Especially if you're doing this together with the other members of your band. This is why we put on Rock Camps every year. All Rock Camp participants get to be in a band to practice and perform together on stage. You can't get that kind of experience from a book or an online guitar lesson.
​
Learn to Play Guitar for a Lifetime of Enjoyment
​
Our students tell us all the time about how much their guitar lessons have enriched their lives. In some cases they learned to play the guitar to be in a band. In others, they just wanted to be able to entertain friends with some popular rock or folk music. Others went on to other instruments, or decided to specialize in bass guitar, ukulele, mandolin or classical acoustic guitars.

Another thing about guitar lessons people don't think about beforehand is how much they teach you about music. Many guitar players become great songwriters and arrangers. In our advanced lesson programs, we include instruction in music theory to help students understand the internal structure and 'rules of thumb' for musical composition. It's very satisfying to be able to play the guitar; but writing your own songs is awesome!

Get Guitar Lessons From Professional Instructors in Austin, TX
Do you want to join a band and become a rock star? Strum the acoustical guitar and sing ballads for your friends? Play the classic 12-string at Symphony Hall? Riff the bass like John Entwistle or Paul McCartney?
There's an old joke about a guy with a violin case walking down the street in New York City. At the corner, he asks a cabbie "How do I get to Carnegie Hall?" The cabbie replies, "Practice, practice, practice." Well, it takes more than practice to be a great musician – you need a well-planned series of lessons from experienced instructors. We have been training musicians from the Austin area (and beyond) for more than 20 years; and our most successful students have gone on to even more virtuosity and worldwide fame.
Call us today to talk about the kind of guitar player you want to become; and we'll recommend the most suitable instructor for your instrument, style of music and current skill level.
North Austin (512) 331-7666
South Austin (512) 476-7666
​
Electric Guitar Lessons
Whether you're a budding rock star, intermediate blues guitarist or accomplished bass player, our Austin music instructors can help you improve your electric guitar playing. For beginners, learning electric guitar starts with the basics – tuning and introduction to the strings and frets. You'll quickly move on to 3-string chords and basic strumming, and it won't be long before you can play your first recognizable song.
For more advanced players our electric guitar lessons include more challenging musical selections, advanced picking and fingering techniques, and exercises to improve speed and stamina. You'll progress to two-hand tapping, vibrato, chord progressions, phrasing and some killer shredding licks. Advanced electric guitar lesson sessions also include
instruction on music theory, sweep picking, hammer-ons and pull-offs.
Acoustic Guitar Instruction

We offer acoustic guitar lessons for players of all skill levels and musical genre preferences. For beginners, we start with an introduction to the guitar, tuning and how to string the instrument. The student will quickly progress to basic chords, reading music and instruction on how to practice.
More experienced students will be taught advanced picking techniques, chords and slurs, along with arpeggios and stretching exercises to improve hand speed, flexibility and strength. Advanced instruction also covers music theory, harmony and chord theory, and guitar phrasing.
Classical Guitar Lessons
Classical Guitar is often referred to as Spanish Guitar or Flamenco Guitar. It is distinguished from acoustic or electric guitars because of non-metallic strings and a very special set of fingering techniques.
At the Austin School of Music, our classical guitar lessons are designed to teach you these techniques – while playing music you and your friends will enjoy. Our instructors select a series of increasingly challenging guitar pieces for you that will progressively develop your strength, flexibility and playing technique – enabling you to play more interesting and satisfying music.
Bass Guitar Lessons
For those who are just starting out, our beginning electric bass lessons teach you how to tune the instrument, how to hold the guitar comfortably, how to place and move your fingers on the frets and thumb along the neck. Students will quickly progress to basic riffs, slides and fills. As with all our instruction, you get to choose the style of music you like, and you set the pace at which you improve.
Lessons for more experienced bass players cover advanced strumming and fingering techniques, playing chords and harmonics on the bass, and mastering more challenging songs. Students can also take advantage of our Austin digital recording studio to evaluate their technique, mix backup tracks or cut demo recordings.
Your First Guitar Lesson
A lot of would-be guitarists waste years trying to teach themselves, or spend many frustrating hours trying to learn from friends or videos. This isn't much fun, and it's probably not going to make you a better musician. The easiest, shortest and best path to success is a series of private guitar lessons from a professional instructor.
Take your first step to proficiency, confidence and enjoyment. Call to discuss your musical goals, talk with one of our instructors and schedule a lesson. We look forward to helping you achieve your musical goals.
Austin School of Music -- South Austin (512) 476-7666 -- North Austin (512) 331-7666
​